Getting Started with Perfec-Tone
Perfec-Tone knows how to help restore skin to its natural beauty, and many of our clients have experienced amazing transformations using our products. But we also understand that some of our clients don't need major changes, just a few minor tweaks to feel beautiful in their skin. If you're looking for a simple solution to take you from almost there to gorgeous, flawless skin, or if you currently have a different routine and are looking for something new – we've got you covered.
The Clear Skin Starter Pack
So what are the must-haves? Our "Starter Pack" includes our Exfoliating Cleanser, Clarifying Gel, and Exfoliating Mitt. Together, these are the essentials for clear, radiant skin.
Exfoliating Cleanser
Our gentle Exfoliating Cleanser provides a powerful mix of physical and chemical exfoliation that clears clogged pores and buffs away dull, dead cells. Salicylic and Lactic Acids in the formula get deep into your pores to dissolve excess oils and dirt, which reduces inflammation and removes blackheads. Biodegradable Jojoba beads remove old skin and increase blood circulation, giving you that healthy glowing complexion. Last, but certainly not least, this product is formulated with Aloe Vera and Green Tea extract, which combat dryness and nourish your skin with anti-oxidants. Exfoliating Cleanser is great for treating acne, blackheads, whiteheads, razor bumps, ingrown hairs, textured or rough skin, and enlarged pores. It works well with the entire Perfec-Tone product line. Using it is simple: just wet skin with warm water and lather into skin using circular motions on the face and neck. To get maximum benefits, we recommend applying it with our Exfoliating Mitt.
Clarifying Gel
To cool, calm and revitalize skin, use Perfec-Tone Clarifying Gel. Filled with lactic acid and Vitamin E, this light gel will help with fighting breakouts and healing the skin. It will leave your skin feeling smooth and refreshed. After using Exfoliating Cleanser, apply a quarter-size amount onto the face and neck, being careful to avoid the eye area. Clarifying Gel is perfect to use for fighting acne, whiteheads, blackheads, razor bumps, and ingrown hairs. It works well with both Exfoliating Cleanser and the Exfoliating Mitt, as well as Resurfacing Crème, Spot Treatment, and Miracle Moisturizer for our more advanced users.
Time to Rise & Glow, Gorgeous
Perfec-Tone is for all skin types, and for all skin problems, whether you are treating major issues, or have good skin and are just looking for a little extra glow.
Come in and speak to a skin specialist today! It's time to do it for you. We can't wait for you to see A Brand New You.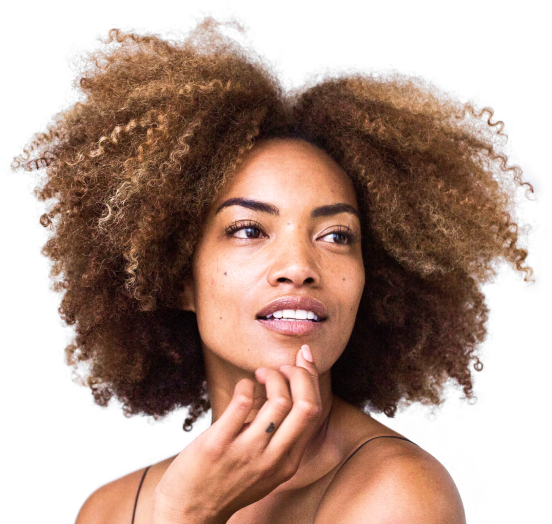 The One Cream For Melasma You Need
Dealing with melasma can be frustrating, but will do everything to find the best cream for melasma for your particular type so you can feel happy and confident in your skin. Look at Perfec-Tone as your skincare best friend and a support network that will help you every step of the way to the skin of your dreams.
TAKE QUIZ