How Can I Get Clear Skin for Black Skin?
Getting clear skin is an agenda on everyone's list. Many people are intentional about getting it and have tried different products, changed their skincare routine over and over again, hopped on every trend, rubbed and scrubbed and touched, but still haven't gotten the desired results.
The problem may lie in the products you are using or your lifestyle and practices. Genetics aside, having clear skin is dependent on what you do (daily habits) and use (skincare products).
The million-dollar question is, "What exactly should you do and what skincare products should you use to get clear skin?" All will be answered in this article. So sit back and relax.

Common skin conditions standing in the way of getting clear skin for people with black skin include:
Acne
Hyperpigmentation
Eczema
Contact dermatitis
Seborrheic dermatitis
Here are general tips on how you can take good care of your skin, fight any of the common issues above and get clear skin.
Do not skip cleansing your face as part of your skincare routine, especially if you are prone to breakouts or have oily skin. You should cleanse your face at least twice a day.
Most drugstore and supermarket aisles are crammed with several types of facial cleansers. It can be confusing to try to decide which one is best for you. However, ensure you use a mild cleanser that won't clog your pores.
You may want to try out
Perfec-Tone Exfoliating Cleanser
. It contains natural and safe skincare ingredients that gently exfoliate your skin, removing dirt and acne-causing bacteria from your skin.
Having clear skin starts with clean skin, and using the right cleanser is just as important.
Exfoliating is the process of removing dead skin cells from your skin, usually with the help of a grainy substance or chemicals. This is a very important step if you want to get or maintain clear skin because these dead cells can clog pores and cause acne or other skin issues if left unattended.
Skipping exfoliation can also make your skin look flaky, dull, or prematurely aged. Black skin isn't supposed to crack. So keep up the tradition by exfoliating as often as your skin can take.
Moisturizing is very important to maintain or get clear skin, especially if you have dry skin. If your skin is too dry, it compensates for this by producing too much sebum (oil). Subsequently, this can cause breakouts.
Ensure you use a non-comedogenic moisturizer to avoid issues. One moisturizer that will give you a run for your money is the
Perfec-Tone Miracle Moisturizer
. This product will keep your skin hydrated and give it a dewy glow.
The importance of sunscreen can not be overemphasized. Yes, even for melanin queens. You need sunscreen. While your melanin can offer some protection, you still need extra protection from sun damage.
Get sunscreen with
at least SPF 30
. This offers up to 97% protection against UVB rays. This should be applied 15 minutes before going outdoors and reapplied in 2 hours intervals. Ensure you apply enough to every part of your body not protected by clothing, including your ears, neck, and top of your head.
Sunscreen should be your best friend in this journey, keep it close.
Consider Treating Hyperpigmentation
Hyperpigmentation is a common skin condition among black women. This condition makes some areas of your skin look darker than the rest. This is a result of a concentrated amount of melanin on that spot.
Hyperpigmentation can be caused by several reasons, including sun exposure. Sunscreen can offer protection against hyperpigmentation. But you may need to use specific products for treatment.
We recommend
Perfec-Tone Hyperpigmentation set
to clear dark spots. With consistent use, clear and even-toned skin is assured.
Combat Acne at Early Stages
Treating skin conditions is necessary to prevent the condition from getting worse, acne inclusive. Combating acne at the early stages might also help stop the development of dark spots on the skin from a healed acne. These dark spots are known as post-inflammatory hyperpigmentation.
The use of non-comedogenic, oil-free products and establishing a mild daily skincare routine can aid in the prevention of acne. But to treat acne, consider using the
Perfec-Tone Acne Collection
.
Acne can be a major hindrance in getting clear skin. So, you must treat it if you have any or take preventive measures against it.
You know that saying, "you are what you eat?" Well, that saying is true for your skin too. Having healthy, clear, and glowy skin starts fundamentally from the inside out.
If you aim to get clear skin, consider
reducing your intake of foods
such as milk and dairy products and foods with a high glycemic index ( like sugary cereals, sugary beverages, cookies, alcohol, refined grains, etc).
Your diet should consist more of foods such as broccoli, soy, red grapes, and fatty fish. These food items help in reducing breakouts.
Water can do a ton of good for your skin. It helps reduce puffiness, improves skin tone, maintains the pH balance of the skin, prevents acne and premature aging, reduces skin sagging, and flushes toxins among others.
Your skin is like a plant, it needs to be watered. Now don't go watering your skin like you do the potted plant on your kitchen counter. Just drink enough water daily, a minimum of 2 liters a day.
Have you ever noticed that your skin looks terrible whenever you're stressed and not getting enough rest? Turns out that not getting enough rest can cause breakouts.
What you have to do is easy. Just ensure you get enough rest. Sleep at least 8 hours every night.
Keep the wrinkles and acne far away, and embrace a healthy sleep routine.
Conclusion 
Clear skin is attainable. However, achieving this requires commitment. It's not going to happen overnight. You have seen that it takes more than having skincare products to get clear skin. You'll also need some lifestyle changes if you want beautiful skin. 
Be kind to your skin, be gentle with it, treat it right,
use certified, effective products
and practice healthy skin habits. You will be happy with the changes you see.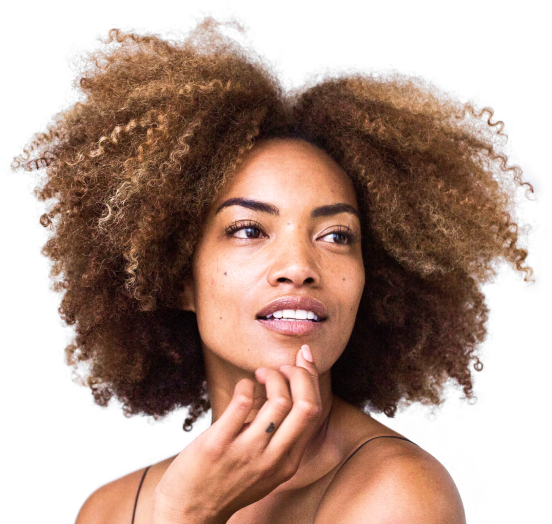 The One Cream For Melasma You Need
Dealing with melasma can be frustrating, but will do everything to find the best cream for melasma for your particular type so you can feel happy and confident in your skin. Look at Perfec-Tone as your skincare best friend and a support network that will help you every step of the way to the skin of your dreams.
TAKE QUIZ