What Are Dark Spots And How to Get Rid of Them?
Dark Spots, often referred to as "age spots" are among the most common of skin issues, and they can appear at any time, for a multitude of reasons. They are technically caused by overactive pigment cells (hyperpigmentation), which increases the production of melanin in your skin and results in a slightly darker coloring. Melanin is the substance that gives skin its color, so having extra means extra color in the skin. From physical damage to the skin to too much sun or artificial UV light exposure, the high concentration of melanin being produced may result in what we call a "dark spot."
Common Causes of Dark Spots Include:
Acne/pimples

Wounds (cut, burn, insect bite, or other injury healing)

Irritation due to products

Hormonal changes

Sun exposure
While dark spots that are a few shades darker than your skin may fade on their own over a period of 6 to 12 months, others can lie deeper in your skin can take years. There are steps you can take to lighten dark spots sooner and even clear them up completely. However, there are also daily activities that can make dark spots even darker – such as more time in the sun – so it is important to fully understand them.
At Perfec-Tone, we advocate a three step process for addressing and solving dark spots:
Cleanse: start with a fresh canvas
Reveal: remove dead or damaged skin
Tone: bring your skin to one even color
Before we explore the solution, let's take a look at who dark spots affect and why. By understanding the reasoning for their occurrence we can better understand the process of correcting dark spots and welcoming evenly toned skin.
Dark Spots Affect Everyone
From 14 to 45 years of age, dark spots can affect everyone in different ways. They affect both men and women to varying degrees, depending on lifestyle and the daily care of your skin. 
Younger people who experience dark spots are typically affected due to acne, which causes an irritation or blemish of the skin and results in melanin pigmenting the skin cells a darker tone. Scar tissue caused by acne also results in darkened skin tone in the affected area.
Those who experience dark spots later in life may be seeing age spots as a result of too much sun or light exposure. In women, Melasma, which causes patches of skin discoloration, is another type of dark spot which can be caused by a variety of issues ranging from birth control and pregnancy to stress.
Both women and men are affected by dark spots, though it is commonly seen more often in men simply due to the lack of skincare regimen or routine. Women are often more likely to care for their skin, exposing new layers and shedding dead skin. Men are also more prone to skin irritation due to shaving, which can lead to an ingrown hair that if not treated correctly can result in a dark spot.
Restoration and Improvement
The good news is that there is a special formula to help improve skin tone and fight blemishes by using specially selected active ingredients.
Perfec-Tone's Spot Treatment Clarifying Remedy for Dark Spots + Age Spots is a unique formula that becomes an integral part of your daily ritual. The simple dark spot treatment becomes a step in your skin care routine with a targeted approach that deals with dark spots. Users can see results within only three days, meaning there's no filter necessary when it comes to showing off your selfie!
Perfectly blended with Caribbean-inspired key ingredients, the concentrated Spot Treatment is applied directly to dark spots and can be even more effective when used after Perfec-Tone's Revitalizing Serum. It is important to allow it to rest on spots for full absorption, and it is so safe it can be used daily until the skin is evenly toned and dark spots have vanished. Fortified with Vitamin A, the spot treatment works to remove dead skin enabling smooth new skin to emerge, balancing complexion evenly.
The Spot Treatment also works to treat acne. Just a pea-sized amount applied directly to the affected area in the evening leads to beautiful and flawless results.
When working to repair or remove dark spots, a routine of treatment options provides the best results. We recommend applying Revitalizing Serum first, which helps to regenerate skin cells, then applying Spot Treatment to dark spots, and finishing with Refining Crème which blends everything together so any color variant matches your skin tone. Used in unison, these three products help restore the skin and achieve ideal skin color and texture.
"I just want to start by saying THANK GOD FOR PERFEC TONE! If I had known that my own people can clear my skin, I would have went to the store or site a long time ago. I would feel so embarrassed to go out and have to wear makeup but now I can go out with clear beautiful skin because of you all. You guys are life savers for people like me. Thank you." - Candice, Perfec-Tone Customer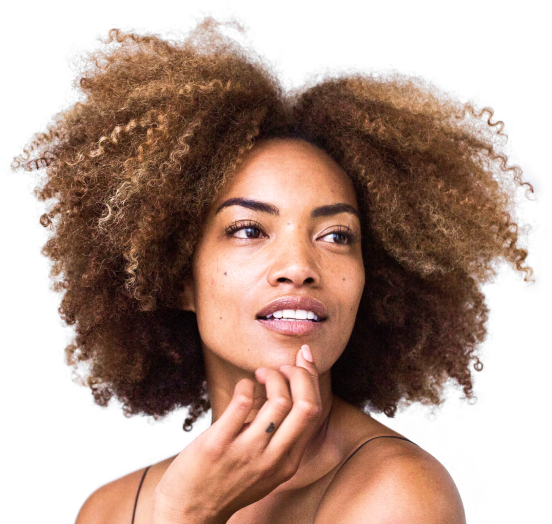 The One Cream For Melasma You Need
Dealing with melasma can be frustrating, but will do everything to find the best cream for melasma for your particular type so you can feel happy and confident in your skin. Look at Perfec-Tone as your skincare best friend and a support network that will help you every step of the way to the skin of your dreams.
TAKE QUIZ