Dry Skin Remedies for Black Skin
Dry skin happens when the skin layers don't have enough moisture and naturally occurring oils to maintain soft and hydrated. We get it; dry skin can be uncomfortable when untreated, and ashiness would never be an option.
You can easily recognize dry skin by patches of itchy or ashy skin, rough texture, and wrinkle cracks. Eczema is sometimes the diagnosis. While there are different types, atopic dermatitis is the most common. Unfortunately, black people are more likely to develop various forms of eczema than people from other ethnicities but fear not! We have compiled a list of tips for you to freshen up and hydrate your face.
How can you prevent dry skin?
We have compiled some helpful tips for personal grooming to keep dry skin and eczema on black skin at bay if practiced consistently:

Use Sunscreen. Eczema on black skin can cause hyperpigmentation, and going out in the sun can worsen it. Be sure to apply sunscreen, preferably an SPF 30, right after your morning skin routine.
For cold weather, make sure to use a humidifier during the winter. We recommend a 60% humidity level to replenish the top layer of the skin.
Shorten your daily bath time. Limiting your shower/bath time to 5 to 10 minutes a day helps you maintain your skin's natural oils. If you bathe more than that, you may strip away much of the skin's oil layer and cause it to lose moisture by stripping away natural oils. This reduction in bath time is difficult for us, but if you have more extended showers/baths.
Apply moisturizer immediately after showering. By doing this, you are locking in moisture while your skin is still damp. For your face, we recommend using the best moisturizer for black skin, the Miracle Moisturizer. Include with your morning skincare regimen that includes Kiwi, Licorice, Mulberry, and Green Tea Extracts. These ingredients work together in a non-comedogenic (won't clog pores), ultra-hydrating formula to balance and protect. Peptides help to encourage collagen production, while Mango, Avocado, and Shea Butter maintain the skin's moisture balance and keep that ashiness away.
Do not scratch. Usually, by using moisturizer, you will control the itch. You can also use a cold/heat compress to relieve itchy spots during dry seasons.
Stay hydrated. Our body needs water to complete a variety of essential functions. Suppose our body uses more water than it takes in. In that case, we could suffer dehydration, which affects our entire body and severely affects dryness. You can prevent this by maintaining a healthy water intake daily of one gallon.
Choosing The Right Regimen for Dry Skin
When choosing the proper skin regimen for melanin-rich skin, you need to consider certain things:
The frequency of applying your product.
If the product is formulated for black skin.
Some of the ingredients included in the product that is not recommended for specific skin types and severe cases of dryness.
Avoid strong exfoliants or treatments such as chemical peels in dry skincare regimens for black skin until moisture rebalances.
When trying to hydrate your skin, a daily skin routine made with melanin-rich skin in mind provides the best results. Reach out to our professional Glow Agents for a free Perfec-regimen, personalized instructions, and get that dewy look today! The use of The Miracle Moisturizer will make your life easier.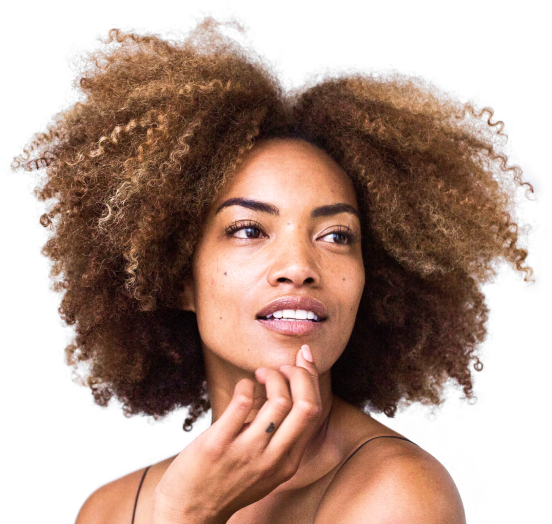 The One Cream For Melasma You Need
Dealing with melasma can be frustrating, but will do everything to find the best cream for melasma for your particular type so you can feel happy and confident in your skin. Look at Perfec-Tone as your skincare best friend and a support network that will help you every step of the way to the skin of your dreams.
TAKE QUIZ